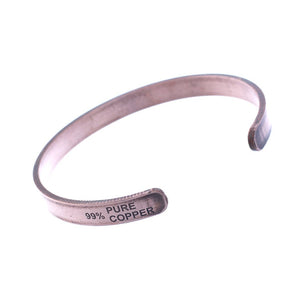 99% Pure Copper Protection Open Cuff Style Unisex Bracelet, 2.5"
Did you know Copper is known to have healing properties and provides a harmonic connection between the physical and astral bodies, aligning the subtle bodies? Bringing benefits to its wearer, you'll want to incorporate it into your daily wardrobe. 

Bracelet measures 2.5 inch diameter before stretching, 0.30 inch wide. Fits most small to large wrist sizes. 

Trendy casual cuff style bracelet is made of 99 percent all natural copper. Claps-less, the bracelet is easy to put on and take off and comfortable for all day wear. It looks great dressed up, but is just as stylish with a pair of jeans and casual t-shirt.Pure uncoated copper is known to be an antimicrobial element that kills germs and microorganisms on contact. 

Ready for gifting, each item is packaged in a lovely eco friendly gift box with a non tarnish jewelers fiber pad. Boxes are made in the USA of recycled materials!